The aim is to sail from Lands End to John O Groats in a dinghy smaller than two bathtubs to raise £50,000 for two amazing charities, Cancer Research and Oakhaven Hospice. If I am successful I will become only the second person to complete this epic journey in a single handed dinghy and break the record for the smallest and fastest dinghy. I will be sailing alone for over 900 miles, spending 10 hours a day on the boat.
The journey will take me up the West Coast of Britain starting in Cornwall and then sailing across the Bristol Channel to Wales. From here the route will take me up to Anglesey and then across the Irish Sea to the Isle Of Man – a big crossing for such a small dinghy. From the Isle of Man I'll be setting sail for Scotland and then making my way past Mull, Skye and the other scenic islands of the West Coast.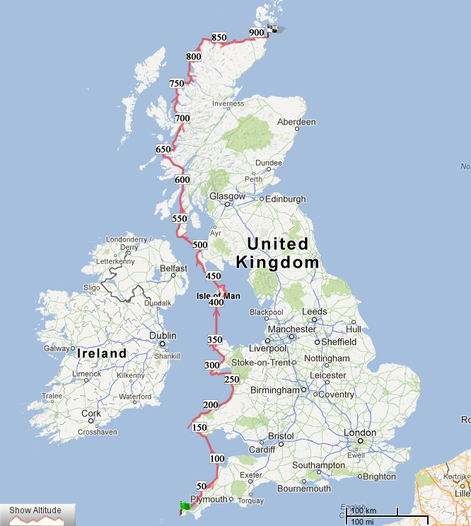 Along the route I'll be facing strong tidal races, big waves, whirlpools and at the end of the day the challenge of finding a surf battered beach to land on. Not for the faint hearted!
My boat is an RS Aero – a high performance modern dinghy which is about 4 metres long and weighs 30kg – about the same as a Labrador! There are no home comforts on board and most of the time half my body will be hanging out of the boat to keep it upright!
Being out there in this challenging environment means safety is a priority so I'll always have on my buoyancy aid and an emergency locator beacon – just in case. I'll also be carrying a VHF radio, mobile phone and a "live GPS tracker" which let everyone know my location every 15 minutes – you can follow this on the website.
Land support will be in the form of my 20 year old campervan "Snowy" being driven by two good friends Ian and Jane Pike. They will be following me along the coast monitoring my progress, identifying the best landing location for the day and helping sort me out at the end of the day with accommodation and food. Basically they're going to be very busy!
Launch date is the 7th May 2017 and I hope we arrive in John O Groats some 20-30 days later – weather permitting!

Where and When – subject to the weather!
Here's a short summary of where and when I hope to be during Race To Scotland. All dates or locations are of course subject to change due to weather. You can find my actual location by clicking on the "Where's Ken" tab on the website:
7th May Launch from Sennen Cove
8th May St Ives/Newquay
9th May Port Isaac/Bude
10th May Ilfracombe
11th May Dale
12th May Fishguard
13th May Rest Day
14th May Aberystwyth/Aberdaron
15th May Aberdaron/Holyhead
16th May Isle of Man
17th May Galloway Peninsula
18th May Rest day
19th May Southend
20th May Tayinloan
21st May Craobh Haven
22nd May Tobermory
23rd May Rest Day
24th May Glenuig
25th May Kyleakin
26th May Big Sand
27th May Achmelvich
28th May Kinlochbervie
29th May Rest Day
30th May Talmine
31st May Scrabster
1st June John O Groats