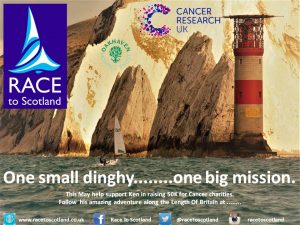 So I made a promise to post regularly – and here we are 39 days later with no news. To be honest that's a good thing – not because the blogs are boring but because it means Race To Scotland has been busy making things happen. I must admit that at 89 days to go it really felt like there was lots to do and little done. Now it feels as if good progress is being made, although life has got rather hectic as a consequence! Looking back on the last post I can see the progress really easily. That week we'd been on Julian Clegg and we were on again last week on pancake day! I think the most memorable question Julian asked me that day was would I be making pancakes on the Aero??? – I just laughed and said only if you want them cold and soggy! My twitter account has soared from 17 to 60 followers and Facebook has really taken off, moving from 117 to 271 likes and now reaching some 4,000 plus people a week – pretty amazing progress.
The promotional element has taken up a lot of time – hence no blogs! – but is really getting the message out there to a wider audience. The benefit of that has been a real increase in donations. When I last wrote we had raised about £1090 and now we have reached the amazing total of £4,600 including gift aid. That's an amazing total with 58 days still to go to launch date – 7th May 2017.
In terms of getting the equipment sorted for the trip we've been really fortunate with lots of companies offering their support. Overboard waterproof bags and cases have supplied us with cases for my phone, VHF radio and great dry bags to keep my food supplies in. ICOM radios have provided a waterproof VHF radio to help me keep in contact with my ground crew and the coastguard. I now have a tracker for my RS Aero which means you will be able to follow my journey live on the internet across the entire trip – so a big thank you to YB Tracking for providing that.  Zest Boatworks in Warsash near Southampton have offered to help make a few modifications to my boat to make it better prepared for long distance sailing, so a really big thank you to Martyn and the crew at Zest.
In terms of getting fit I've been out there sailing as much as possible and even sailed through two storms – Ewan and Doris – which was  very interesting to say the least. Can't say I've ever been as fast in a dinghy!! Regular runs and sit ups have been keeping my fitness to a good standard but now I have a more focussed regime for the last 2 months before we launch. I'm being helped in this by Dan Broadwell a local personal trainer who has developed some exercise and gym sessions to really help my body be prepared for 20 plus long days of back to back dinghy sailing. He is also providing me with nutritional advice to ensure that I'm taking on board the right types and amounts of food during the trip. So thanks Dan for putting me through this much pain – honest!! Linked to Dan's hard work my local hotel – the Christchurch Harbour Spa Hotel in Mudeford – has kindly offered me free use of their excellent gym and spa facilities (much appreciated after a hard training session) in the final push to getting ready for the trip. So thank you to all the staff at the Christchurch Harbour Hotel and Spa – especially Alice in the spa.
So that's about it for today but with only 58 days to go we'll try and keep the blog more up to date and catch up on some of the adventures I've had over the last 39 days.
Cheers
Ken